How to flirt with a girl?
It doesn't matter whether you're flirting over text, social networks or in-person, it's important to keep a balance between revealing your feelings and keeping the person you like intrigued. If you want to know how to flirt and you'd like some help getting to know a girl, in our article you will find the best tips.
Make eye contact. Eye contact is the best and easiest thing you can do to start flirting. You can look deeply into girl's eyes while also taking the time to break eye contact to keep things from getting too intense. One can do it using the following tips:
Look into her eyes when you talk, particularly at meaningful points in the conversation (for example, while you're making a compliment).

Sometimes girls can look at a guy lowering gaze and looking up at the guy again through lowered lashes. Such a behavior means that you are on the right track!
Smile. You'll probably smile automatically if you're talking to someone you like, but you can use your beautiful smile for your own benefit before the conversation even starts. You shouldn't make a grin from ear to ear, sometimes just a simple, subtle smile will work wonders. Try these variations:
Smile slowly. If you're looking at a girl but not talking to her, try letting a slow smile spread over your face. Slow and languid smile is generally considered to be sexy.

Smile when you make eye contact. If you're suddenly looking into someone's eyes, toss in a smile for extra appeal.

Try smiling with your eyes, not just your mouth. Make your whole face light up when you smile.
Don't become nervous that you forget some basic conversational skills. Use your phone. If you've never chatted with the person online before, you may even find an excuse for talking to him, like asking some questions or talking, for example, about a sports team you both like. If you're texting a person for the first time, make sure she knows who you are and that she doesn't feel creeped out. Here are some tips to start a conversation through text in social networks:
"Hi, how's it going?"

"Did you see/hear (insert an event you both know about)?"

"How's your week going?"
If you have already found a girl of your dream and want to bring her a real pleasure, place an order for finger vibe sleeve for squirting - Maestro Love on our website! We wish you a wonderful sex!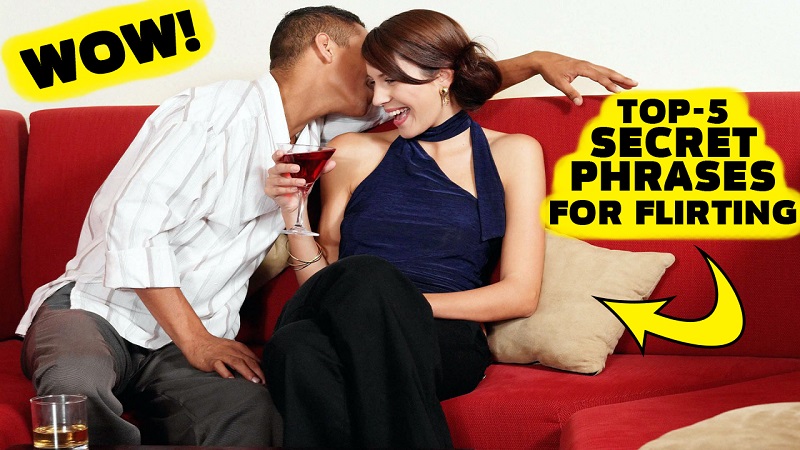 If you are not that skillful in conversations with women and can't just come to a girl in a bar or on the street to charm her with your natural charisma, our video is right for you! What phrases should you use while flirting, so that a girl would like to keep communicating with you? Have no idea? Just watch our video "Top 5 secret phrases for flirtation" right now and don't forget to give it a like! The ability to flirt is in people's nature. But it turns out that literally anyone can take control over this eternal and natural traction between opposite genders. Usually men tend to use the art of temptation. Unlike girls, men are not interested in the game for the sake of the game. The following five secret phrases are perfect for any flirt and will help you win any girl's attention: - Did it hurt much when you fell from Heaven?/ Do you believe in love at first sight or should I walk by again?/ There must be some problem with my eyes, I can't take them off you./ You remind me of my next girlfriend./ — Do you have a map because lost in your eyes. Use our phrases for a successful flirt, and any girl will surely be yours forever!