Most severe complications of prostatitis. Part 1
Unfortunately prostatitis - is disease that cannot pass by itself if it do not treat complications arise, which further affect the condition of the prostate gland.
Prostatitis occurs in acute and chronic forms.
In the acute form of inflammation of the prostate occurs very rapidly as a result there are pain and sharply raises the temperature, arise weakness and excessive sweating.
Chronic prostatitis - is the result of improper or substandard treatment of the acute form. Acute prostatitis phase very rapidly becomes chronic.
The disease occurs slightly, symptoms have systematic. Because of this, get rid of the inflammation is very difficult. Cure the chronic form is impossible, but it is possible to make that the prostatitis reminded about itself extremely rare.
If you start treatment of the early stages of using the prostate massage device Prostata Help MP-1, you will never know about the complications of prostatitis.
For more information on types of complications of prostatitis, you can view the subtitles to our video.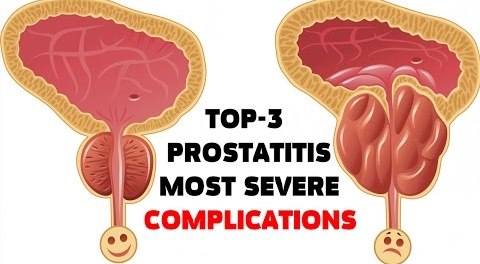 Subtitles to our video.
Many men don't treat the prostate inflammation seriously. However, untreated prostatitis can have serious complications. TOP-3 prostatitis most severe complications. Part 1.
Third place. Vesiculitis. Chronic prostatitis may cause inflammation of seminal vesicles. Symptoms are pelvic and groin pain spreading to the lower back and sacrum. Vesiculitis in men causes frequent urination, pain during ejaculation and erection, blood and pus in the urine and semen.
Second place. Colliculitis and urethritis. The prostate is located in close proximity to the seminal colliculus, thus infection is easily transferred from the inflamed prostate to it. Symptoms of colliculitis and urethritis that usually go together is itching and burning in the urethra area that becomes more pronounced during urination. During ejaculation the back of urethra is shrinking, so men suffering from colliculitis, often complain of pain during orgasm, or immediately after the intercourse.
First place. Prostatic abscess Pathogens causing chronic prostatitis may also trigger prostatic abscess. This heavy septic disease is accompanied by weakness, fever, shiver and profuse sweating. In some cases, it also causes impairment of consciousness and delirium. The patient requires hospitalization.​
For more details, you can see our video clip, or you can view the product description on our website.