How to get rid of problems with potency
Do you have an unstable erection? You doesn`t like your "boner"? Unfortunately, the results of social surveys cannot accurately reflect the number of men who have difficulty with erection. This is because the definition of "problem with erection" is rather vague. In this case, it is better to talk about such concepts as impotence and erectile dysfunction, or ed. However, what is the cause?
In the process of sexual intercourse, not everything is as simple as it seems. Sex is associated not only with the physiology of man, but also with psychological factors. A man in excellent physical form does not have a "guarantee" for one hundred percent success in sex. Sometimes, erectile dysfunction occurs in everyone. They occur under the influence of various factors. Too much drunk alcohol, the effect of medications, and so on - this refers to the physiological side of the issue. Psychological can include complexes, rage and anger, as well as stress and depression. However, if you have a bad erection often, then you need to seek advice from a specialist. A large proportion of erectile dysfunction occurs due to the pathology of the circulatory system and blood vessels.
Let us talk about the other side of the issue - the impact of psychological factors. The whole gamut of emotions, feelings and experiences that we experience directly affects the reproductive system. These factors can cause an soft erections.
Diagnosis and treatment.
If you realized that you are not well with your health, do not despair and give up! First, you need to analyze everything. It may well be that you need to take a different approach to making love. Alternatively, maybe you need to change something in relation to your partner. It may well be that a few heart-to-heart talks will have a beneficial effect on your problem. This sounds amazing, but in three cases of four problems with erection, or erectile dysfunction of any degree (!) are treatable. Of course, you first need to figure it all out. It is best to consult a sexologist. If, however it is scary, you have prostatitis, treatment cannot be postponed in any case! If you are prescribed a prostate massage, our male prostate stimulator Prostata Help MP-1 will be an excellent option, and teach them to use your partner! In addition, if, fortunately, you have not found prostatitis, prostate massage is an excellent prophylaxis for prostatitis. It also has a beneficial effect on potency and erection. Good luck!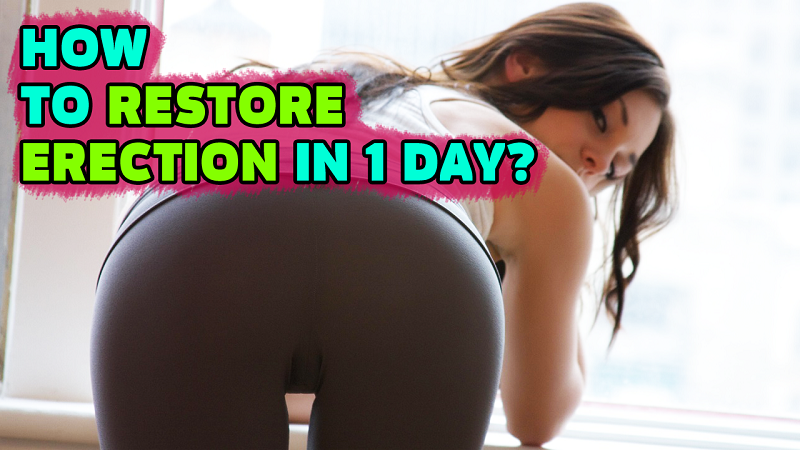 How To Restore Erection In 1 Day?
A weak erection is a fairly serious problem that threatens your further sexually activity. Statistics show that approximately 10% of young men have weak erection from time to time, and after 40 years old every second man faces this problem. Only 20% of men make up their mind to undergo treatment. Actually, it's not an independent disease, but an important symptom of physiological problems that should be solved. One of the most common and serious causes of weak erection is prostatitis. The disease contributes to decrease in male hormones' production that entails low sex drive. Impotence is only the first in a chain of complications. Massage will bring your health back! Massage is an effective and available tool stopping the disease and restoring sexual drive! Now everyone can not only recover, but also prevent the disease. Make a choice in favor of your health right away!