Extender work principle
UVIPE is a company engaged in penis enlargement. We use state-of-the art enlargement technology – vacuum extender UVIPE PRO, vacuum suspension UVIPE @KILO@, vacuum stretcher UVIPE @SILOMAX@. In addition, if you already have an extender, you may use Uvipe GIBRID and transform it into a vacuum one that will enhance penis enlargement efficiency and improve wear comfort. First of all, it should be mentioned that not many methods of penis enlargement are effective. You CANNOT enlarge your penis using pills, ointments, creams, herbs, and various natural components.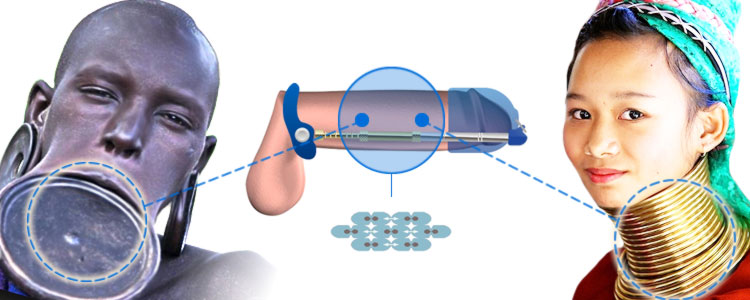 Technology of augmentation and enlargement of various body parts has been known from the earliest times. In particular, African tribes extend neck and lips using stretching. The same principle is used regarding extenders. The most effective way of penis enlargement is mechanical stretching by means of extenders, stretchers and suspension. Uvipe is a company engaged in penis enlargement by means of glans vacuum fixation and following vacuum stretching of the penis body. The major specialization of Uvipe is penis stretching by means of glans vacuum fixation. As a result, you can enlarge your penis from 1,2 to 2,1 inches lengthwise and to 0,6 inches in diameter with no loss of sensibility.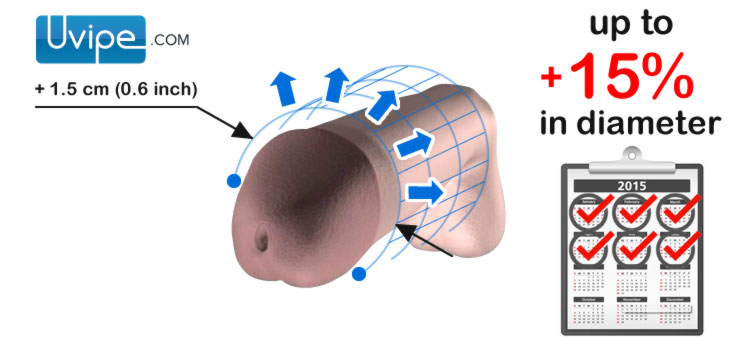 The general principle of penis enlargement lengthwise using UVIPE PRO extender
The general principle of penis straightening using UVIPE PRO extender